Tree Dog Kustoms dog boxes are designed and built by hunters for hunters. Houndsmen will appreciate these hand-welded, lightweight, durable boxes for their convenience and added safety. No matter which box you choose, you'll get a handcrafted product that's made from laser-cut and CNC-bent .100 aluminum and finished with riveted joints.
Tree Dog Kustoms' founder, Jeremy, is an avid hunter and goes often with family and friends. They have personally used every single TDK box in the field, so when you buy a Tree Dog Kustoms dog box, you know it's been thoroughly tested and hunter approved.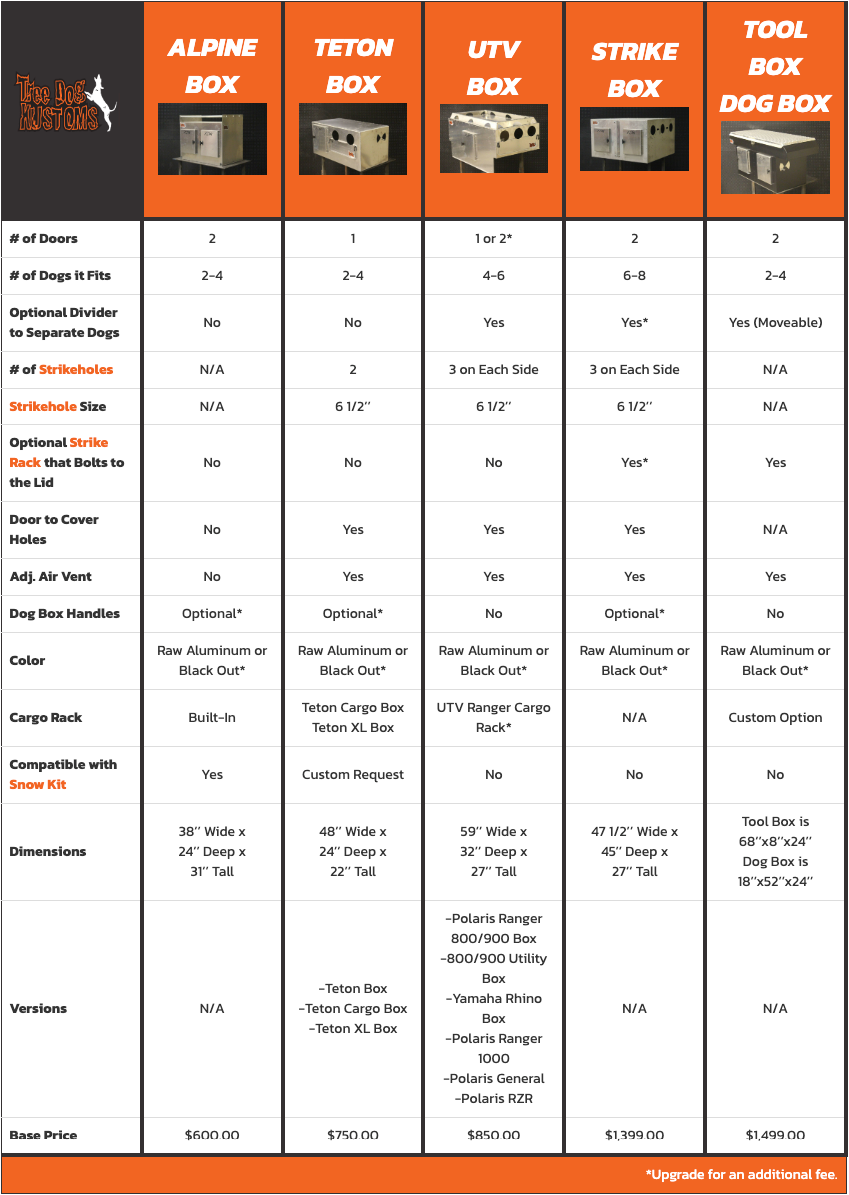 If you can't find the perfect box using the chart above, Jeremy and his team can create a custom box for you and your dogs. Contact us for more information and to get a quote.
Middle divider - The divider separates the box into two or three compartments and is meant to keep each hound focused on the hunt. This prevents the dogs from nipping or challenging one another while their prey drive is amped up.
Snow kit – This winter-ready kit adds sled mobility to your Alpine Box or custom designed Teton Box. The kit makes it easy to own one all-season box. Just use the included rods and pins to attach the box to this sturdy ski-based platform and hook up to the 36-inch hitch. This kit helps you safely transport your dogs through snow to prime hunting grounds.
Strike holes – 6 ½" diameter round holes with a sliding door or doors, offering you both control of airflow for your hounds and permission for the dogs to strike or not.
Strike rack – If your dogs are ready to rig, you may prefer keeping the leaders on top of the box. These sturdy strike racks provide an open air platform for the ultimate sight and scent experience for your hunting hounds.